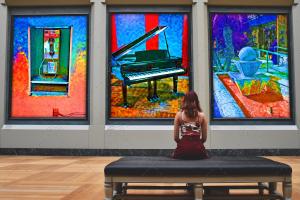 FOR IMMEDIATE RELEASE

Grand Opening of Cool Color Photos with Free Online Art Exhibition
Interested parties worldwide can go to the Cool Color Photos website and enjoy unique artwork 24/7

LOS ANGELES, CALIFORNIA, DECEMBER 30, 2019 - Andrew Lawrence, a California photographic artist, recently announced the grand opening of his artistic enterprise, Cool Color Photos. To celebrate, Lawrence has launched a free online art exhibition of his art that is open 24/7. There is no obligation, no sign up, no sign in, the exhibition is 100% free to everyone, anywhere.

A high fashion photographer for over 20 years, Lawrence now creates the Cool Color Brand; original photographic wall art for collectors, interior designers and anyone decorating their home or business who loves color. In his creative photographic art, Andrew Lawrence takes objects in his environment and turns them into bright colorful images that evoke positive emotions, bright colors that evoke beauty,...